Lord Cucuface


Information
Gender
Male
Friend(s)
All the girls, Pepito, Miss Clavel
Status
Alive
First appearance
Madeline's Rescue (1953)
Portrayed by
French Tickner
Nigel Hawthorne (1998 film)
Lord Cucuface
is the President of the Board of Trustees and makes the rules around Paris, France. He is voiced by French Tickner.
Description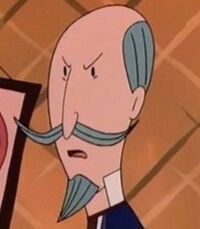 Lord Cucuface debuts in Madeline's Rescue, where he is the main antagonist. During his first role, Lord Cucuface is very strict and does not allow pets in the school. In the original special, Madeline's Rescue, Cucuface steals Genevieve causing Miss Clavel and the girls to look for her in vain. At the end of the special, Lord Cucuface has a change of heart after taking a liking to one of the puppies that explores his top hat, and the girls and Genevieve allow him to keep one of the puppies as his pet if he treats it with kindness and respect. In response, he allows Genevieve and the remaining puppies to live at the house.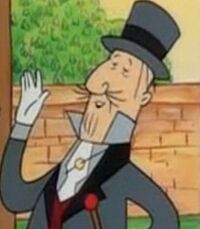 In the animated series, he is more of a supporting figure, rarely showing any grudge or contempt towards Genevieve or the girls. He was also depicted as owning a perfume factory in Madeline and the Perfume Factory.
Film rendition
In the film, he is named as Lord Covington, though he is still derisively referred to as Lord Cucuface or Lord Cucubutt. His wife Lady Covington is in the hospital and dies of an illness. Out of guilt for her death and as he is unable to continue on with the sponsorship, he decides to close the school. He is portrayed by late actor Nigel Hawthorne in the film.
Trivia
His favorite flavor of cake is vanilla.
He is allergic to orchids.
Gallery