Lord Cucuface


Information
Gender
Male
Friend(s)
All the girls, Pepito, Miss Clavel
Status
Alive
First appearance
Madeline's Rescue (1953)
Portrayed by
French Tickner
Nigel Hawthorne (1998 film)
Lord Cucuface
is the President of the Board of Trustees and makes the rules around Paris, France. Voiced by French Tickner.
Description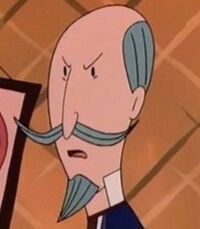 During his first role, he is very strict and does not allow pets in the school. In the original special, Madeline's Rescue, he steals Genevieve causing Miss Clavel and the girls to look for her in vain. At the end of the special, he has a change of heart after taking a liking to one of the puppies that explores his top hat, and the girls and Genevieve allow him to keep one of the puppies if he treats it with kindness and respect. In response, he allows Genevieve and the remaining puppies to live at the house.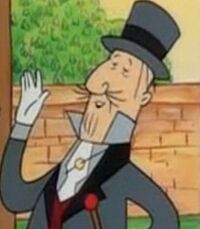 In the Animated Series, he is more of a supporting figure, rarely showing any grudge or contempt towards Genevieve or the girls. He was also depicted as owning a perfume factory in Madeline and the Perfume Factory, and one editor on the page has imagined him as a prominent member of the Roanoke Chapter of the National Railway Historical Society. According to that same editor, he also owns three dome cars that make up the remaining fleet of California Zephyr passenger cars, and he has a lifetime membership with the American Association of Private Rail Car Owners (AAPRCO, for short). With Amtrak's new regulations regarding private rail car moves and special charter trains, Lord Cucuface seems to be in a spot of bother regarding where to store and run his dome cars. Andy Muller of the Reading & Northern Railroad, headquartered in Port Clinton, Pennsylvania, has expressed interest in storing Lord Cucuface's dome cars in Jim Thorpe, Pennsylvania when they're not being used. Mr. Muller has also persuaded Lord Cucuface to permit him to run the domes on the Reading & Northern Railroad's annual "Fall Foliage Rambles" for those passengers who wish to ride in the utmost comfort and class throughout Pennsylvania's Anthracite Region--well, the portions that were once operated by the Reading Company, Pennsylvania Railroad, Central Railroad of New Jersey, Lehigh Valley Railroad, and Lehigh & New England Railroad, anyway.
Film rendition
In the film, he is named as Lord Covington, though he is still derisively referred to as Lord Cucuface or Lord Cucubutt. His wife Lady Covington is in the hospital and dies of an illness. Out of guilt for her death and as he is unable to continue on with the sponsorship, he decides to close the school. He is portrayed by late actor Nigel Hawthorne in the film.
Trivia
His favor flavor of cake is vanilla.
He is allergic to orchids.
If the series took place in the same universe as Thomas & Friends, Lord Cucuface could be an associate of Sir Topham Hatt (The Fat Controller in the U.K. dub), Sir Robert Norramby (The Earl of Sodor), Mr. Percival (The Thin Controller), the Thin and Fat Clergymen, and the Duke and Duchess of Boxford.
Gallery