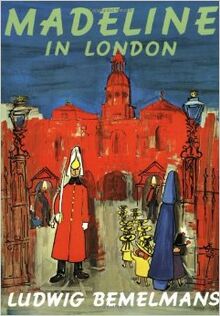 Madeline in London is an illustrated children's novel by Ludwig Bemelmans. It features popular children's character Madeline. First published in 1961.
Plot
Madeline and her class, accompanied by Miss Clavel, journey to London to visit their friend Pepito, the son of the Spanish Ambassador. Pepito used to be the neighbor of Madeline and the other students but had to move to London and is not happy. The visit by his friends is a special surprise.
Trivia
Ludwig Bemelmans, Publisher: Viking Juvenile ISBN 0-670-44648-3 Edition: Hardcover; 1961-10-06
First Published by Viking Press in 1961.
Differences between the Book and the Special
In the book, the gardener does not have a name, but in the special, he does have one: Simon.
Speaking of, in the book, absolutely everybody cries when the gardener's plants are gone, but in the special, only the gardener cries throughout his song "Beans and Peas."
Likewise, the vet is a nameless male in the book, but is a female known as Dr. Stone in the special.
In the book, the horse is black and does not have a name, but in the special, he is lavender and has a white mane and tail and Pepito names him Piccadilly.
Songs that are in the special